****** U14 CRUSH FINISHES PERFECT SEASON ******
On Sunday 05/31/2015, the U14 Crush finished off their perfect 20-0 season in style by throwing a no hitter in their first game and then throwing a 1 hitter in their second game, winning each by the score of 11-0.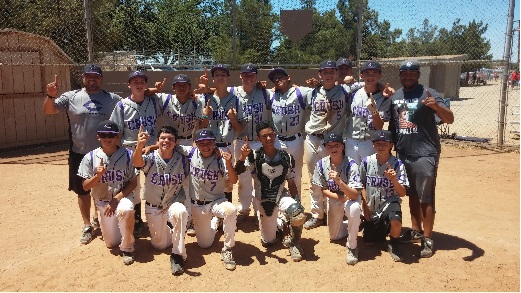 ***** 2015 SPRING UPDATE *****


AS OF NOW THE BAT RULE REQUIRING THE USE OF -3 BBCOR BATS FOR THE 14U DIVISION HAS BEEN RECINDED!!!! All bats previously allowed are now good to use.



Join a League
If you would like to join our league next season, sign up or contact us to find out more information. Feel free to send text!
League President:
Stephen DeCarteret: 760-927-9994
coach115@verizon.net
League Vice-President:
Zach Donaldson: 909-543-5167
zacdonaldson69@gmail.com

League Treasurer:


Tammy Rangel

League Secretary:
Jeni Boulanger
jboulanger236@gmail.com

Baseball Player Agent:
John Boulanger: 760-953-3476
(text preferred)
johnamauto@gmail.com

Softball Coordinator:
Jaime Cerf: 760-486-4469
jayleela@hotmail.com

Snack Bar Coordinator:

Angela: 760-912-8471
Schedule Coordinator:

Oscar Cisneros:
bossman@ucla.edu
Sponsorship Coordinator:
Bruce Gilbert: 760-412-2583
HighDesertSports@Live.com

Umpire In Chief:

Zach Donaldson
Information Officer:

Jarrod Sinclair: 760-486-8409
jsinclair15@yahoo.com



Upcoming Board Meetings:


connect with us:


____________________________________________________________________
APPLE VALLEY PASSES SMOKING BAN
EFFECTIVE 03/27/2014

Click on the link for details
SMOKING BAN


IMPORTANT MESSAGE FROM YOUR HD Pony League Board:
Due to the fact that alcohol is not allowed at the ball parks and possession and/or consumption of alcohol puts the league in jeopardy of losing the privilege to use these fields and our Pony charter, anyone found possessing or consuming alcohol at Pony League games will be suspended for the season.

REMINDER to ALL MANAGERS: You are responsible for the actions of your players, parents, and fans. You will be held accountable for improper conduct, which may result in disciplinary action (suspensions, forfeit of games, etc.). Please remind all of your fans and players to abide by the rules and exihibit good sportsmanship.





2014 Season Info:

MANAGERS: Please Report Scores to bossman@ucla.edu - When reporting scores please include the age division, the date and the score (if the game was one by forfeit please indicate that it was a forfeit).

In order to view baseball game schedules do the following:

Click on LEAGUE REGISTRATION at the top left.

Scroll to the division that you are interested in viewing the schedule for, and click on LIVE at tye bottom of the page,

Select schedule that you would like to view. Standings are also available there.

If you would like to view only your team schedule click on the name of your team.

Just Approved!

Softball Registration reduced to $75 per player.